Mental Health – PayPlan supports calls to improve access to debt advice
Nearly half of people in problem debt have a mental health problem. Yet, symptoms of many mental health problems like difficulty communicating, impaired clarify of thought and reduced concentration, can make it difficult for people to engage with debt advice.
Every year 100,000 people in England attempt suicide because of debt. Having the right policies in place can be the difference between life and death. With growing recognition on the importance of debt advice being accessible to all those who need it, the Money and Mental Health Policy Institute is calling for the industry to better serve clients with mental health problems.
In its recent Help Along the Way report, the Institute outlines key recommendations to challenge debt advice providers and funders to improve accessibility and support people with mental health problems. The report highlights the importance of carefully listening to clients and communicating using their preferred channel at any given time.
Easy access to tailored debt advice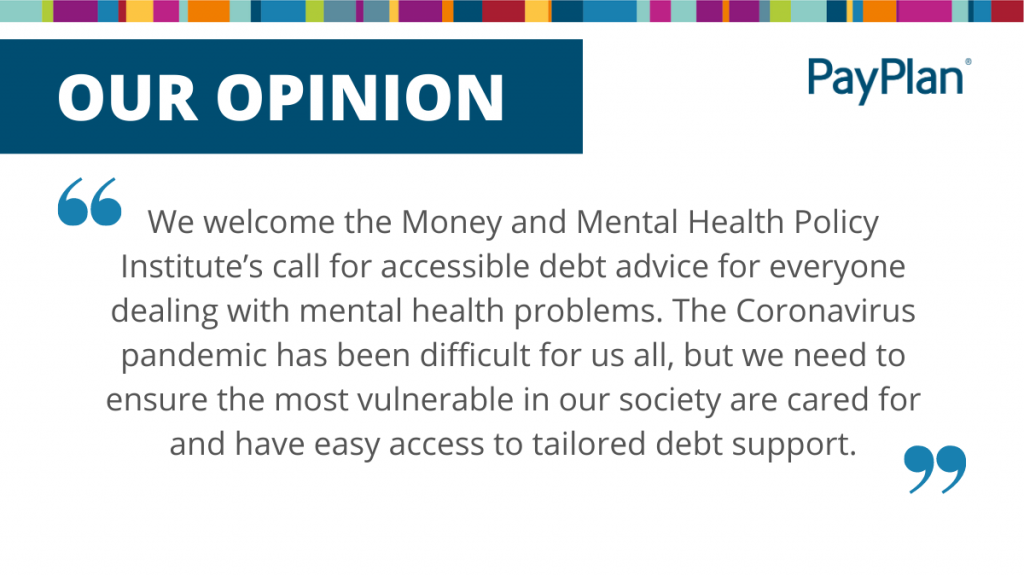 Rachel Duffey, CEO of PayPlan, commented: "We welcome the Money and Mental Health Policy Institute's call for accessible debt advice for everyone dealing with mental health problems. The Coronavirus pandemic has been difficult for us all, but we need to ensure the most vulnerable in our society are cared for and have easy access to tailored debt support.
"A quarter of our clients in an active Debt Management Plan are classed as vulnerable, and of those affected, over a third have mental health problems. We support clients with a range of mental health issues, from depression, bipolar disorder and stress-related conditions.
"Although an individual may be suffering with some symptoms of mental health issues, they aren't always severe, and may not even be diagnosed. I am proud to say that, at PayPlan, our advisers are trained on spotting the signs of a mental health problem, as well as working with clients who disclose their conditions to us in confidence.
"We agree that a one-size fits all approach for debt advice simply does not work. More needs to be done to support people with appropriate debt support and I hope this report makes the industry sit up and take notice."
PayPlan's support for vulnerable clients
A quarter of PayPlan clients in an active Debt Management Plan are classed as particularly vulnerable. Of this group, 34% of people have recorded having a mental health problem. This vulnerability may be temporary or permanent, and the person may be dealing with a mental health problem alongside another vulnerability – like a physical health problem or gambling addiction.
When someone seeks debt advice from PayPlan, we work hard to make each interaction count. This happens by taking the time to communicate with each person in a way that's right for them.
Every adviser at PayPlan receives vulnerable client training to help them spot the signs that someone needs extra support or that they may be in a vulnerable situation. Where this is the case, the person will go into the care of the dedicated vulnerable client team.
In this specialist team, advisers have been working hard both before and during lockdown to make sure people who need extra support get it promptly. Support doesn't just mean offering debt advice – it can range from listening and or spotting the signs of a vulnerability early, or signposting towards professional bodies who can help further.
Find out more about our support for vulnerable clients, including working with GamCare and domestic abuse charities.
This article was checked and deemed to be correct as at the above publication date, but please be aware that some things may have changed between then and now. So please don't rely on any of this information as a statement of fact, especially if the article was published some time ago.