ARE YOU WORRIED ABOUT THE RISE OF INTEREST RATES? YOU'RE NOT ALONE
In autumn this year we surveyed hundreds of homeowners already living on a tight budget asking how to a rise in interest rates would affect their finances.
While the Bank of England held interest rates again, our survey revealed 72% of you would not be able to cope with a £100 monthly rise in your mortgage repayments, and 65% believe an interest rate rise would have a 'severe' impact on your finances.
One of the best things to do is be prepared for how any future changes might affect you. Of those we surveyed who were worried, however, a whopping 90% had not spoken to a lender.
Then, if there was a rise, over half of you (54%) would be forced to cut down on your most basic of expenses, including food and heating.
Jane Clack, money advisor at PayPlan, who has been in debt herself, knows first hand how difficult it can be:
"Having the security of a roof over your head is a primary expense for almost everyone. What is concerning is that for those who are experiencing money problems already, that additional rise in interest rates could tip thousands of people over the edge, meaning they'd have to cut down on real essentials.
"Planning ahead is absolutely crucial, so seeking out professional advice is the best way to anticipate how external changes, such as interest rates, would affect your monthly spending."
If you're worried about how legislation changes, interest rates, or external factors might affect your finances, get in touch.
Case study – Jenny
When Jenny gave birth to her son nine years ago, she suffered from postnatal depression and racked up huge bills on her credit cards.
"I can't say what I spent it on. It was just a coping mechanism," said Jenny. She had also received a £15,000 tax credit overpayment.
At first she managed to keep on top of the repayments but when the recession hit, her husband started to lose work as a builder's supplier and they quickly found themselves in arrears with their mortgage.
As they struggled to meet the bills, Jenny took out short term high interest loans to try and make ends meet.
"Life was awful. I didn't dare answer the door and had caller ID installed on the phone. I blamed myself and tried to keep it all a secret from my husband by putting the phone on silent and rushing home to intercept any mail before he could get it. I was exhausted."
It was only when the mortgage company took them to court that Jenny revealed everything to her husband.
Jenny is now one year into an IVA with PayPlan and is getting used to life on a budget.
"I'm a completely different person now." She said. "Debt opens up your eyes to the way you behave with money. Now if I want something, I save up for it first.
"If interest rates increased, pushing my mortgage payments up by £50, I'd struggle but probably cope, but £100 would be completely impossible.
"I work as a civil servant with only 1% pay rise each year, so it would be a massive struggle.
"I haven't had any advice from my mortgage lender on this, and because I have two secured loans on my house anyway, it would make it quite a precarious position."
For more information about PayPlan visit https://www.payplan.com/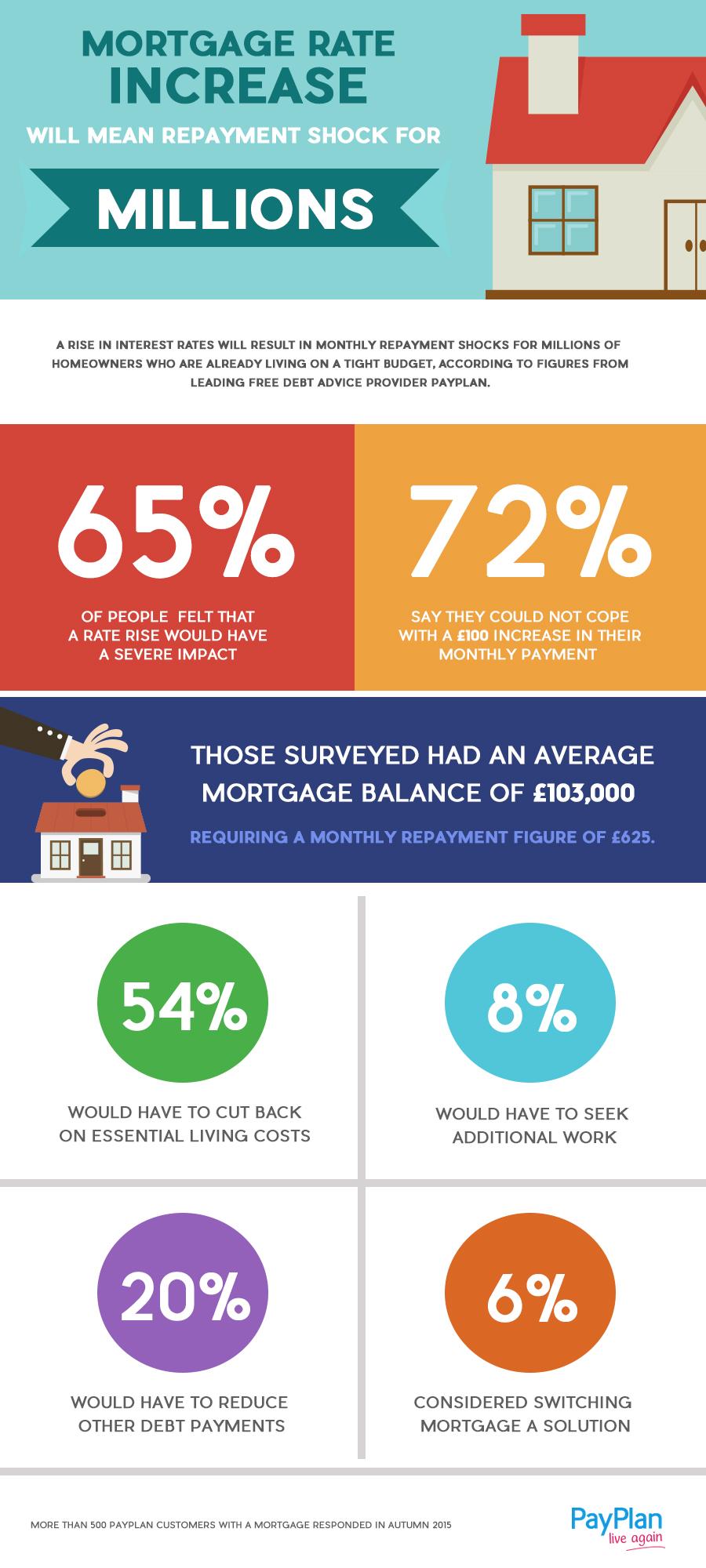 Share this Image On Your Site
This article was checked and deemed to be correct as at the above publication date, but please be aware that some things may have changed between then and now. So please don't rely on any of this information as a statement of fact, especially if the article was published some time ago.