Our Vulnerable Client Team
We support our vulnerable clients
We have over 9,700 clients who have disclosed a vulnerability to our advisers and 91% of them told us about their situation voluntarily.
Clients who get in touch with PayPlan need help and advice about debt. We know that a vulnerability (which could include a mental or physical illness, addiction or abuse) could prevent you from getting out of debt and that's why we offer extra support.
Get advice now
---
We aim to build trust and confidence so that you can feel comfortable in telling us about any vulnerability you may have.
A vulnerability can be long-term and short-term and is often related to:
Serious illness or disability
How do we offer support?
All of our debt advisers are trained in spotting the signs of vulnerabilities. They pick up on verbal or written cues given to them during an advice session and they'll ask you a few extra questions to find out a little more. This is to make sure they're doing everything they can to offer you the correct advice and support.
If you give us your consent, we'll record your vulnerabilities on your case file, so regardless of which adviser contacts you from PayPlan, they'll be informed of your individual situation and will be able to tailor the conversation appropriately.
At PayPlan we don't judge or discriminate. We're here to help you find a debt solution that suits your circumstances and we're able to signpost you in the right direction for extra help from other professional organisations.
So, whether it's the first time you've been in touch, or whether you're are in a Debt Management Plan (DMP) or an Individual Voluntary Agreement (IVA), if you've told us about a vulnerability we can offer additional support.
Vulnerable Client Team
PayPlan has a special Vulnerable Client Team whose advisers receive additional vulnerability training.
Dedicated to supporting 'particularly vulnerable' clients, such as those with a terminal illness, mental incapacity or learning disabilities like dyslexia, they can offer specialist one-to-one support.
If you speak to our team, their tailored approach means you can:
Have a dedicated adviser
Be offered advice sessions for the duration or at a time that suits you, such as around medical or carers' appointments
Receive information in a way that suits you e.g. bitesize facts, helping you to understand it better
Understand the choices you are making when choosing a solution
Receive additional adjustments, such as being removed from any automated communications;
Get information in alternative formats, like braille or large print formats
Allow us to work with an appointed third party or family member
Be sent a written summary of any conversation as a reminder.
We have a 'tell us once' approach to helping clients. With your permission, we can help creditors to understand your situation and work together to put you in the best financial position, so you can afford to repay at least a proportion of your debts.
In 2018 alone, our Vulnerable Client Team helped towards writing off over £1,000,000 for PayPlan's clients, working closely with creditors to achieve this.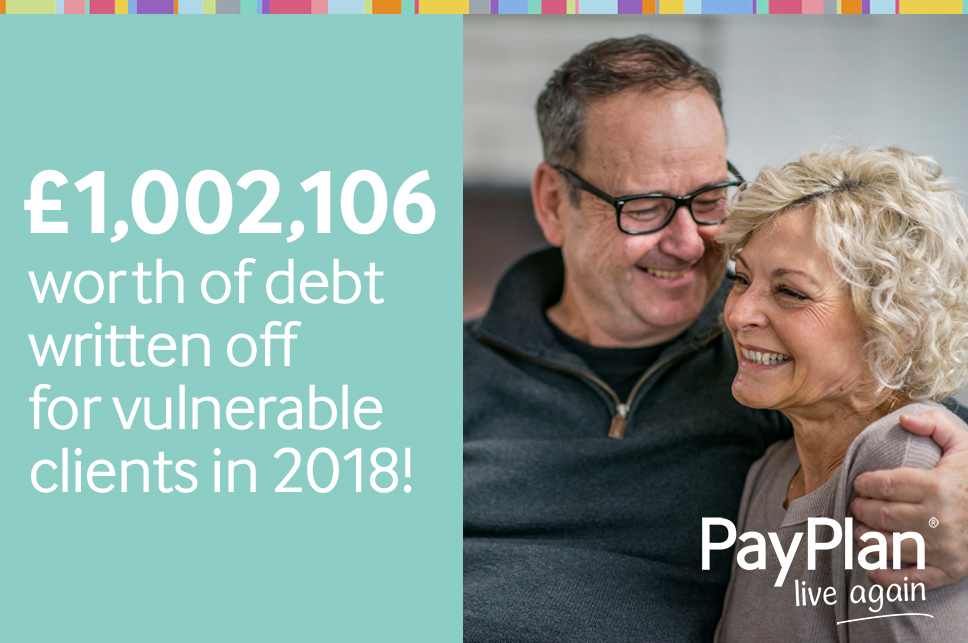 Our external partners
While we can offer debt advice, we also recognise that there are often additional circumstances preventing you from becoming debt-free. This is where we offer advice on who you can talk to for extra help.
Our partners include the National Bereavement Service, Age UK, the Trussell Trust, Samaritans, GamCare, National Domestic Abuse Helpline and many others.
What actions have been taken?
We've invested heavily in improved technology and training that's geared to helping our staff support clients easier and quicker.
We've put policies in place to ensure vulnerable clients get the support to make informed decisions and manage their arrangements with their creditors.
We offer talk by text for deaf and hard of hearing clients, as well as braille and large-print documents for the blind and partially sighted.
We only contact our vulnerable clients at the time of day that suits them, and via the mode of communication they'd prefer (email, phone call etc.)
Our Vulnerable Client Team is here to help and will strive to ensure that any client, no matter what their mental, physical or personal situation, is treated fairly and offered the best advice possible.
If you or somebody you know could benefit from our help, get in touch with our team for free debt advice today at https://www.payplan.com/advice/ or call 0800 316 1833 .