Making Valentine's Day Special
With the New Year in full swing and all of the celebrations of Christmas well behind us, our attentions turn to the next celebration: Valentine's Day. We want the 14th February to be special, but how can we delight our valentine or play Cupid or Eros on a budget?
Going out?
If you have saved a few pounds; then treat your partner by taking them out for a special meal. Restaurants and pubs tend to provide great offers often as a way to make a good impression to attract clientele for the future; you can use this to your advantage making the most of some excellent deals.
Hundreds of restaurants and restaurant chains throughout the country have Valentine's Day offers, her are just some:
Staying in?
If you prefer to show your loved ones how much you mean to them by cooking for them at home rather than taking them out, then there are lots of supermarket deals to help you on both meal deals as well as offers on individual ingredients to enable you to make your own meal from scratch.
They also have a number of offers on desserts as well as wine and champagne – to add that little bit of 'je ne sais quoi' to your evening.
Want to indulge further why not make your own pudding; "Brownie-in-a-mug":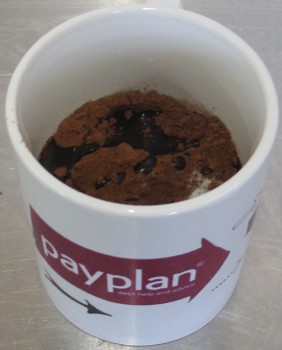 Ingredients:
3 tbsp. of sugar
3 tbsp. of plain flour
1 ½  tbsp of cocoa powder (perhaps just a little less depending on the strength of your cocoa)
A pinch of salt
2 tbsp of olive oil
3-4 tbsp of water
Method:
Sieve all dry ingredients into a mug.
Add the olive oil and 2 tbsp of water and begin mixing.
If the mixture is too thick add the other 1-2 tbsps. of water.
Consistency: it should be smooth and well mixed able to stick the back of the spoon.
Cooking:
Microwave in the mug for 2 mins
Alternatively; Bake in an oven for 20-25 mins at 180°C
Voila! – Careful it will be very hot.
You can dress this down or up as much as you like, add sauces, ice cream, chocolate chips, fruit (dried or fresh) it really is up to you.
This just shows that you can make Valentine's Day special, without it costing a fortune.
This article was checked and deemed to be correct as at the above publication date, but please be aware that some things may have changed between then and now. So please don't rely on any of this information as a statement of fact, especially if the article was published some time ago.