Top Tips for Curbing your Daily Spending Habits
It doesn't matter how many big money decisions you make or how many tough choices you take to get your debt under control: if you're spending too much on day-to-day stuff then you'll struggle to fix your finances.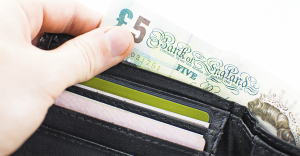 A coffee, a snack and a magazine, for example, and suddenly you've spent £7 without even realising it. Do that three times a week and you're spending over a grand a year. In fact, almost £1,100 A YEAR just frittered away on nothing. And that packed lunch you forget to pack for work each day can mean you spend £5 or more on a shop-bought lunch. Do that five days a week, 48 weeks a year and suddenly you've spent £1,200 extra out of your taxed income.
It would be very easy for this blog to be a list of spending that you could cut out, along with how much you could save. But that's not actually very useful – someone who's interested in curbing their daily spending habits needs to address the root problem and not just the symptoms. Getting daily spending under control is about tackling how you view your disposable income. Here are some tips on making that happen.
1) Draw up a budget
You can't get your daily spending under control until you know how much you have to spend. You need a figure, ideally a weekly amount that you know is genuinely disposable income – and the only way to find that figure is to draw up a budget.
There are some great tools online to help with this, but essentially you need to write down your weekly or monthly income and outgoings. You'll need to include essential bills like rent or mortgage, utilities, any debt repayments and a realistic amount you need to spend on food, transport, clothing, that kind of thing. Don't leave anything out. What's left over is yours to spend or save. It's also a good idea to break that down into a weekly amount so you're not left too broke to go to the pub at the end of the month.
Also, if your debt repayments are so high that you can't afford other bills or a decent standard of living then it may be time to talk to us about bringing your debts under control. With PayPlan there are no hidden fees and we have vast experience helping people like you.
2) Make a meal plan, shop online
More and more Brits are drifting away from the Big Weekly Shop and instead popping into a convenience store on the way home from work to pick up what they need. For people who struggle to limit their spending, this can be a big mistake. It's just too easy to buy non-essentials at the same time and waste a few extra pounds that quickly add up.
It's better to make a meal plan in advance and do one large shop. If you order your shopping online then you do pay a little extra for the delivery, but you limit your opportunity to make impulse purchases. That can save you pounds in the long run.
3) Switch, change and shop around
Spending even just an hour a month looking at your household bills can save you a small fortune. If you've never switched your energy provider or shopped around for cheaper insurance then you could be paying hundreds of pounds more than you need to.
That can save you enough money to increase your daily spending allowance, making it less likely you'll fall off the wagon. It's hard to make yourself sit down and look through your household accounts, but curbing your spending habits can save some serious money – freeing up even more cash for debt repayment, saving and having fun.
This article was checked and deemed to be correct as at the above publication date, but please be aware that some things may have changed between then and now. So please don't rely on any of this information as a statement of fact, especially if the article was published some time ago.
Comments 1
---
Comments are closed.