PayPlan nominated for SHOMO award
We're proud to announce that we've recently been nominated for the Best Brand, Charity or Money Blog Award at the 2019 UK Money Bloggers' annual awards ceremony, the SHOMO awards. Sponsored by QuidCo, the awards are a chance for some of the industry's most prominent bloggers and writers to gain recognition for their work this year, and cast a spotlight on the issues covered in their writing.
As you can imagine, we're incredibly proud to be nominated for the award. Past winners of Best Brand, Charity or Money blog award have not only been extremely well-informed about their chosen subject, but have also been a pleasure to read. The fact that our own PayPlan blog is being considered in the same standing as this is a testament to how far our blog has come. Whilst we're up against strong competition (the official Money Advice Service's blog and well-known savethestudent.org are amongst the other nominees) we're confident we can win!
We're also supporting the Blog Post of The Year award. Entries for this award have been shortlisted to include some of the most informative, interesting and unique blog posts of the year. Covering a diverse range of topics from the real cost of raising a child to why those using guarantor loans need extra protection, there promises to be a considerable amount of talent on show at the awards.
The winners of the awards will be announced on the 14th of September 2019 at the UK Money Blogger's annual awards in London.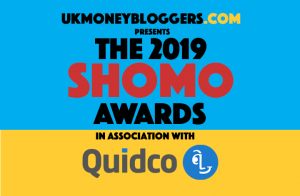 Who are UK Money Bloggers?
UK Money bloggers are a community of journalists and bloggers who essentially write about anything and everything to do with money. Their main aim as a community of writers is to inform and help people in the UK to be in control of their finances and make the most of their money.
From personal finance to money saving tips, UK Money Bloggers' writers have covered an array of topics over the years, with much of the writers' content being used by the likes of the Money Advice Service, QuidCo, giffgaff and Vanguard.

*Image courtesy of UK Money Bloggers
This article was checked and deemed to be correct as at the above publication date, but please be aware that some things may have changed between then and now. So please don't rely on any of this information as a statement of fact, especially if the article was published some time ago.