Helping Gamblers To Get Free Debt Advice
Written by Emma Gibbons on 12 October 2017


It's Responsible Gambling Week and this gives PayPlan a chance to support other organisations to raise awareness about the importance of gambling responsibly.

An annual initiative run by Gamble Aware and GamCare the week, 12-19 October, aims to ensure that everyone knows what responsible gambling means as well ensuring people who might be experiencing harm know there is help available.

It was reported by the Gambling Commissioner that the number of problem gamblers in the UK or those at risk has increased to more than 2 million people. This is echoed by our own data, as we too have seen an increase in the number of problem gamblers seeking debt advice.

During October 2016, PayPlan had 69 active clients with a gambling addiction. Figures for October 2017 show 119 active clients with a gambling addiction which is a 72% increase on this time last year. We have also seen an increase in young men with gambling debts coming to us for free debt advice.

It is important to remember that gambling is a popular pastime, with the majority of the UK participating in gambling in the past year. It's when people gamble with more than they can afford to lose that they are at risk of becoming addicted to gambling.

At PayPlan, problem gamblers are supported by our vulnerable support team, a specialist team of advisers who offer practical help and support based on the individual's situation. In Britain problem gamblers are defined as when gambling affects an individual's whole life. For example this could be when it gets in the way of work, school or other activities, or if it starts to impact and harm your mental or physical health and wellbeing. It can also impact you financially and potentially damage your relationships with friends or family. To put this into perspective, only 0.8% of adults in the UK were estimated to be problem gamblers.

We understand the impact that debt can have on your life. Whatever the nature of your debt problem, we can help you with free debt advice to help you decide the best way forward –Call us free today on 0808 250 2051 or complete our online Debt Help form.

If you'd like more information on Responsible Gambling Week then visit www.begambleaware.org/rgweek/

To view our infographic below, click to enlarge.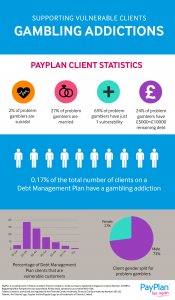 ---
Filed under Industry News
This article was checked and deemed to be correct as at the above publication date, but please be aware that some things may have changed between then and now. So please don't rely on any of this information as a statement of fact, especially if the article was published some time ago.