Has Universal Credit been a failure? – We asked our clients
With food bank use still rife across the UK and a considerable amount of in-work families still needing to use food banks, the controversy over Universal Credit rages on. In order to make sense of how well Universal Credit is (or isn't) working, we decided to go to PayPlan clients for an informed opinion on the matter.*
Universal Credit was introduced as a singular benefit payment in 2013 that replaced an array of older benefits. The Government wanted to simplify the UK's benefits system. Whilst this may have been an understandable idea at the time, it's fair to say the introduction of Universal Credit didn't go as smoothly as the Government would've hoped.
Fast-forward five years to 2019 and we're still hearing horror stories regarding Universal Credit. From the 56 year old whose benefits were cut for 13 weeks after missing an appointment due to illness, to a man forced to move into a freezing caravan whilst waiting for his Universal Credit to come through, cases like these have become the norm. With such awful press, it's understandable why people might be worried about the idea of turning to Universal Credit in their hour of need.
We asked PayPlan clients how Universal Credit was affecting or had affected them. The results are as follows:
86% of PayPlan clients who are on Universal Credit say that the wait for their first payment put them at risk of hardship.
The initial wait for the first payment seems to have been one of the biggest issues with Universal Credit. One PayPlan client said:
"It's ok when it eventually kicks in, but the waiting until everything gets sorted is horrible, I had use food banks and ring all my gas, electricity etc. to either put my payments on hold or make reduce payments.  I had to go to Citizens Advice Bureau for help."
72.34% of PayPlan clients on universal Credit say they had to borrow money due to Universal Credit.
Again, it's likely that the majority of these clients had to borrow money whilst waiting for their first payment. Borrowing money from sources such as Payday Loan companies often results in large amounts of money being paid back as interest; hardly ideal for those in debt.
Of those who aren't claiming it yet, 55% of PayPlan clients who are eligible for Universal Credit felt they'd be worse off claiming it.
Universal Credit seems to work differently for those paid weekly instead of monthly, which sheds some light as to why some people think they'd be better off without it. One PayPlan client said:
"Applied 1/12/16 finally received payment 10/3/17, I had to take unpaid leave from work to as couldn't pay childcare. Left me in debt and still repaying. As I'm paid 4 weekly I miss 2 payments a year as I'm counted as being paid twice when I'm not! The worst ever invented. Working families like us are worse off!"
58% of those claiming Universal Credit say that it doesn't cover their basic living costs.
There have also been issues with the backdating of Universal Credit payments that leave those using the system out of pocket. This PayPlan client said:
"You don't get your payments back dated which puts you in debt it's very difficult to survive on day to day life every month you struggle with money."
Our survey also found that…


56% of PayPlan clients who are on Universal Credit say that they receive less money through Universal Credit compared to the old benefit system.
80% of PayPlan clients who are eligible for Universal Credit say that they feel worried about Universal Credit – 52.94% of men say they are worried compared to 78.68% of women.
55.5% of PayPlan clients who are eligible for Universal Credit say that they will be worse off claiming Universal Credit – 40% don't know how Universal Credit could affect them financially.
67.32% of PayPlan clients who are either on or eligible for Universal Credit are female.
The overall majority of PayPlan clients who claim these benefits or Universal Credit are aged between 35 and 44.
At the very least, it's fair to say that Universal Credit has its flaws. The Government's plan is to have all claimants on Universal Credit by 2023, but a recent vote to decide whether or not to move 3 million people onto Universal Credit was pushed back this month. Instead, Parliament will decide on whether or not to move 10,000 people onto the singular benefit payment. This begs the question of how long it'll take for Universal Credit to be fully rolled out, if at all.
How do you feel about Universal Credit? Leave us a comment below and let us know your thoughts.
Universal Credit and debt
PayPlan help 1000's of people in debt every year. No matter your circumstances, we are here to help. We can provide Universal Credit advice or help with your debt through our online, free debt solution tool.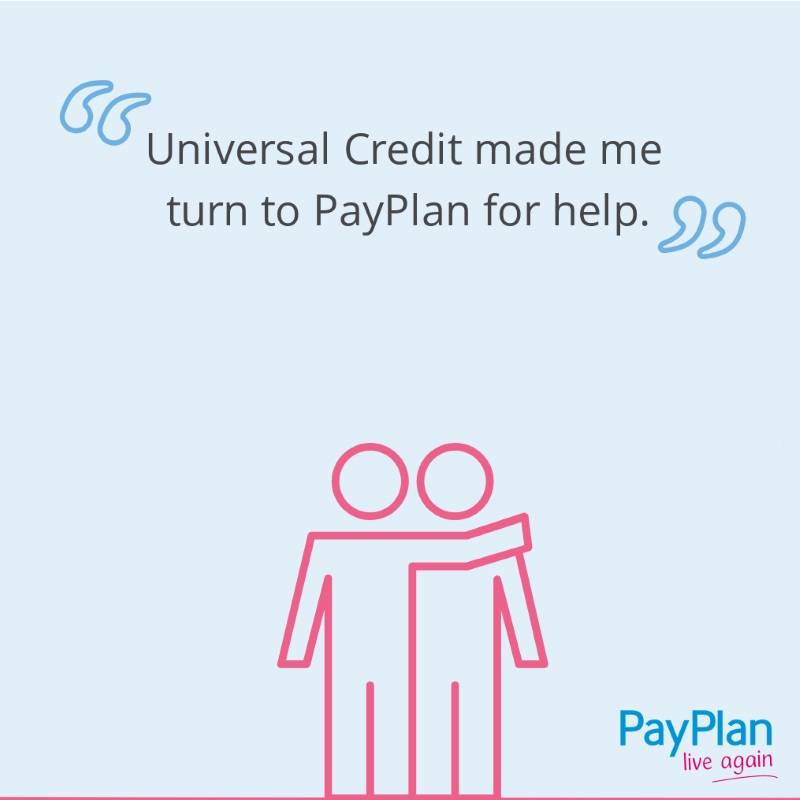 *Figures from a PayPlan client survey conducted in January 2019 with a 4.13% margin of error.
This article was checked and deemed to be correct as at the above publication date, but please be aware that some things may have changed between then and now. So please don't rely on any of this information as a statement of fact, especially if the article was published some time ago.