It's that time of year again when we get the chance to show our dear dads just how much they mean to us by lavishing them with love – and gifts!
For those who read my Gifts of Love blog a few weeks ago, you'll know that I'm a big fan of homemade presents, which are not only more personal, but also don't break the bank.
And now that my daughter is two years old, she's reached the age where she can help – so whether it's a birthday, Christmas or Easter, we love getting the craft box out.
Here are a few Father's Day favourites – especially if you have children.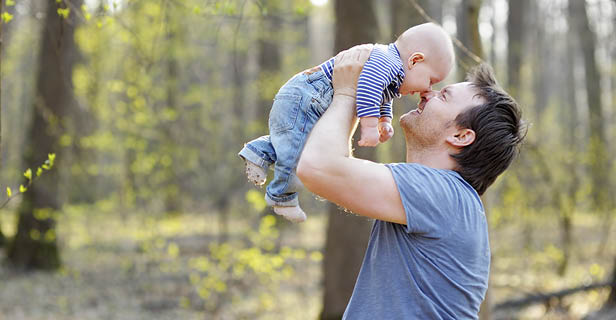 Alphabet Photo Frame
I've recently moved house and my fridge is now behind a wooden door, so I've got an abundance of old fridge magnets just lying in the drawer unused.
So when I came across this idea, it seemed perfect – especially as it didn't end up costing me a single penny as I already had the glue and felt in my craft box.
All you need:
Refrigerator magnetic letters
Photo
Craft glue
Felt
Cardboard
Choose magnetic letters that spell 'I' and 'Dad'. Cut the shape of a heart out of a piece of cardboard the same size as the letters. Glue the photo onto the cardboard and cut an additional heart out of felt. Cut the inner section of the heart out to create the frame. Glue the letters and the heart together. Letters should be level to allow it to stand. You could also experiment with different messages to personalise your gift.
Gnome sweet gnome
I love a good car boot sale and recently managed to bag a 'paint it yourself gnome' for 50 pence. I guess you can say I'm cheating with this one as it's not strictly homemade, but my daughter had lots of fun painting it herself. Just make sure the item you want to paint is clean and dry and let your kids creativity shine through!
First Father's Day
You can't go wrong with newborn hand or footprint pictures for decorative keepsakes – they make a thoughtful first father's day gift for any proud new dad. It can be done for all ages and with various colours. It's so simple yet unique.
Sweet tooth
If you feel more at home in the kitchen than up to your arms in crepe paper and glitter, opt to make a cake instead. It's a great way to get everyone involved and will make your dad feel extra special that you've dedicated so much time and effort especially for him.
Whatever you decide to do or give on June 15, make sure it leaves a lasting impression and shows dad he's number one – after all, a memory costs nothing.
Have you got any homemade gift ideas that you'd like to share? We'd love to hear them!
This article was checked and deemed to be correct as at the above publication date, but please be aware that some things may have changed between then and now. So please don't rely on any of this information as a statement of fact, especially if the article was published some time ago.