PayPlan's new debt tool: Diagnose Your Debt
Today we have launched a new debt tool on our website to help you see how well you are managing your finances. Diagnose your Debt is an easy to use calculator designed to ask you a series of simple yes and no questions about your lifestyle and spending. Once you have completed the questions our tool will diagnose how debt savvy you are. It is an eye opening tool that we urge everyone to use. You might think you are managing your money well and that your budget is working but the debt warning signs are not always obvious.
Diagnose your debt aims to highlight any money issues before they become a problem – our questions centre around the most common debt warning signs so this tool will help you pinpoint how well you are managing your finances. If our tool highlights that you are struggling we will offer tips and advice to help you regain control of your debts – whether that's an article showing you how to create a successful budget or whether that's recommending you speak to a free debt adviser to talk you through what debt solutions might be available.
Many people struggle alone with their debts. In a recent survey we conducted, 91% of people say they feel stressed about their finances.  We want to spread the word and warn people about the early signs of debt. Recognising issues early mean problems can be solved more quickly. If you are struggling with debts or need any advice, PayPlan are here to help.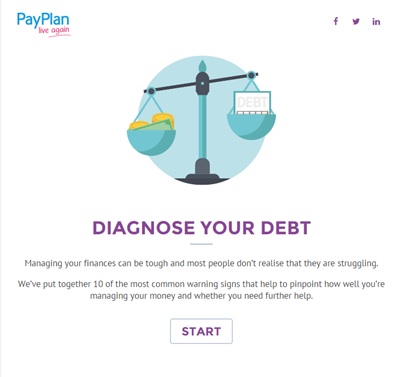 This article was checked and deemed to be correct as at the above publication date, but please be aware that some things may have changed between then and now. So please don't rely on any of this information as a statement of fact, especially if the article was published some time ago.
Comments 4
---
---
Comments are closed.