Eric (59) used to work as a manager for a large DIY store in the North East until he had a major accident in 1991, when he broke his neck and his back. From being fit and healthy and earning a decent wage he found himself permanently disabled and living on benefits.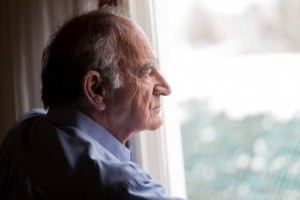 "I had my own flat, I'd never been out of work, I was paying off my mortgage and then all of a sudden I had no money at all," he said. "I fell into a deep depression. I lost my flat and went home to live with my mother. Basically, I just stayed indoors for three years.
"Then my mother died and I had to leave the flat. I was at the end of my tether. I turned to thoughts of suicide. I had a bottle of Vodka, all my tablets and I decided to drive to a place I knew in Scotland where I would end it all by driving off the top of a hill."
En route to Scotland, Eric missed his turning and ended up in Windermere, in the Lake District. He decided to stay overnight at a B&B and after breakfast the next day, a stranger in the car park walked towards him and made eye contact.
"I didn't know what he wanted, but he came up to me, put his hand on my shoulder and said 'Why don't you go for a walk?'
"I wandered off, ended up at a local doctors surgery, saw a GP who said he could sort me out and here I am, still in the Lake District.
"My one big problem was always debt. I knew I was never going to work and earn a wage again and that was the thing that pushed me over the edge. My creditors were constantly sending me letters, and bailiffs were hounding me – I just couldn't bear the pressure. That's what made me feel suicidal."
When Eric settled in Arnside and had sorted out his Disability Living Allowance he still didn't have enough money. With debts at £26,000, he visited the local Citizens' Advice Bureau who suggested he contact PayPlan.
"From the start they were very helpful, very friendly and non-judgemental which was the main thing for me. I felt sorry for the poor girl on the phone though! When I started talking it was like the floodgates had opened and it all came out.
"She said 'we'll look after you, we'll take care of you.' It felt like a massive boulder had been lifted from my back."
Eric is now paying off his debts through a Debt Management Plan (DMP) and finds the amount manageable. He's also settled into a flat in a local charitable housing association block where he has help dealing with his benefits.
"I'm not rich, I don't have loads of money, but life is good and I've never thought of doing away with myself again."
This article was checked and deemed to be correct as at the above publication date, but please be aware that some things may have changed between then and now. So please don't rely on any of this information as a statement of fact, especially if the article was published some time ago.