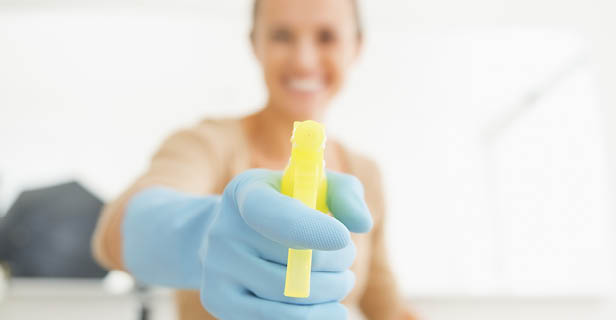 All of those bottles under the kitchen sink can cost households some serious money when you add them all up.
Bleaches, window cleaners, stain removers, polishes, you name it – buying branded cleaning products can be a costly business, especially when you don't end up using the majority of them.
So before forking out on more expensive cleaning products, have a look at what's around your house instead.
Not only will you be saving money but you'll also be using fewer chemicals and helping your health as well as your pocket.
Here are a few ideas to get you started:
White vinegar and lemon juice. This makes a great wood polish.

Combine white vinegar and lemon juice in a bowl or spray bottle and then use a clean cloth to rub a small amount of the polish into your furniture.
Vinegar and water. This makes an easy but effective glass cleaner. Mix

two tablespoons of vinegar with a little bit of water in a spray bottle. Spray onto mirrors or windows and wipe clean with an old newspaper for sparkling glass.
Old clothes. Simply cut them up to create reusable dish cloths.
Herbs. Want to add an extra burst of aromatic freshness to your clothes?

Pick (or buy) some lavender to make your own lavender water. Then simply spritz your laundry before it goes through the washing machine. Your clothes should retain just enough scent to smell fabulous and fresh afterwards.
Grapefruit and salt. All you need to make a brilliant bath cleaner. Slice your grapefruit in half and sprinkle it with salt. Sprinkle some more salt in the bottom of a slightly wet bath and get scrubbing using the salted grapefruit half as a scourer. Rinse and enjoy a clean, beautifully scented bathtub – also works well in showers, on toilets and in the sink.
Have you already ditched the Dettol? Let us know your home made cleaning solutions.
This article was checked and deemed to be correct as at the above publication date, but please be aware that some things may have changed between then and now. So please don't rely on any of this information as a statement of fact, especially if the article was published some time ago.