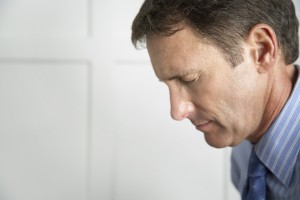 When Martin's mother became ill in 2013 he took some time off work to care for her. He'd worked for the same motor dealers for 25 years but despite this, Martin lost his job because of the amount of time he'd taken off and it was being unemployed that added to his debts.
His mother had originally planned on moving into a retirement bungalow as her mobility was poor but she sadly died in 2014. Martin (62), who lived with his mother, had taken some equity out of the house to pay for the various pieces of medical equipment she needed and the adaption of a shower. "I had to rely on loans and a credit card to see me through. I just took on too much.
"When my mother was alive I was only getting £60 a week carers' allowance so I had to cash in some of my pension just to give us something to live on. Then I lost my job, I lost my Mum and I began to wonder what else I'd lose.
It all just got on top of me and I had to see my doctor. "I'd been dealing with depression since my father died in 1998. My problem was that I wouldn't open up; I'd bottle things up and then just go 'bang'. This time my doctor referred me for counselling; I'm half way through it and I think it's helping although I don't have any family so it does get a bit lonely at times.
Martin tried to deal with his creditors himself and it was his bank who suggested he approach PayPlan for some help. "PayPlan were very good and I didn't have any problems at all. I had one or two creditors who continued to ring up or send threatening letters but PayPlan said 'pass them to us, we'll sort it out'. The service has always been very good and I wouldn't hesitate to recommend them to anyone."
When Martin first got in touch with PayPlan in 2009 he was in debt to the tune of £18,000. He claimed back some PPI so managed to pay off part of the debt and he now pays £20 a month into his Debt Management Plan (DMP). "I was paying £60 a month but when I lost my job I had to have a review of my finances."
Martin is still unemployed but hopes to find some seasonal work in the run up to Christmas. "This is the first time I've been out of work since 1970 so I'm finding it a bit of a struggle. Money is tight as I've used up quite a bit of my pension. I don't want to lose the house so I've spoken to the building society and they've been very understanding.
"When I reach 65 I hope to be able to take some equity out of house and finish the DMP – unfortunately I can't raise enough at the moment. It would be really lovely to get rid of the debt; it's like a millstone around my neck.
"I'd love to get everything sorted out but how I'm going to do it, I don't know."
This article was checked and deemed to be correct as at the above publication date, but please be aware that some things may have changed between then and now. So please don't rely on any of this information as a statement of fact, especially if the article was published some time ago.