A Third of People Wait Up To Four Years Before Getting Debt Help
Almost 30% of people in financial difficulty admit they wait three to four years before reaching out for debt advice.
PayPlan, one of the UK's leading providers of free debt advice is campaigning to break down the barriers which prevent people from seeking help with problem debt and help tackle a mounting problem in the UK.
Debt is still seen as a 'taboo' subject and many feel they need to hide their problem from friends and family, or tackle it alone. Currently, 8.3 million people (1 in 6 UK adults) are struggling with problem debt, but crucially only 1 in 5 feel they can reach out for help.
A recent survey of PayPlan clients showed they were experiencing feelings of being worried (73%), scared (40%), embarrassed (51%) and ashamed (41%) before seeking debt advice.
This research highlights the importance of PayPlan's "Let's Talk About Debt" campaign, which is designed to normalise the subject of debt and encourage more people to actively seek the advice and confidence they need to look forward to a debt-free future.
Jane Clack, money adviser at PayPlan said:
"For those struggling with debt, the hardest part is often admitting it's a problem in the first place. Being transparent about struggles to family or a partner is crucial in making sure the situation doesn't get out of hand.
"People who are suffering in silence and worried to seek help are preventing their money problems from being resolved. This can also have implications on other areas of their life such as their mental health, work and family relationships. A simple conversation, whether that's with a close friend or via live chat with a debt advice professional, can be a huge weight off their shoulders."
PayPlan is also looking to partners to demonstrate their support for the "Let's Talk About Debt" campaign, to help raise awareness across the UK about the importance of removing the barriers to seeking debt help. Identifying the early signs of debt, the reasons that have led to the situation, and getting people to seek help earlier, are key elements in helping people to become debt-free.
Jane added:
"There is often a trigger point that leads people to seek help. We benefit from our partners identifying these triggers or early signs of their clients being in debt and sending them to us for free debt advice. Working closely with support organisations too, such as Mind, GamCare and the Samaritans, means we can also signpost them for the extra support they need in tackling the surrounding issues that may have led to them being in debt in the first place."
Visit
www.payplan.com/letstalkaboutdebt
to find out more about the campaign, including the results of client survey about perceptions of money across different generations, an interactive quiz based on national money related questions, and inspirational client 'life after debt' stories.
PayPlan is also keen to hear from partner organisations who would like to be involved in the "Let's Talk About Debt" campaign. For further information and to access free debt advice and support, visit
www.payplan.com/letstalkaboutdebt
or call 0808 278 9095.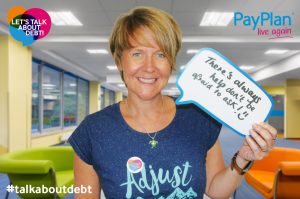 This article was checked and deemed to be correct as at the above publication date, but please be aware that some things may have changed between then and now. So please don't rely on any of this information as a statement of fact, especially if the article was published some time ago.