I can't afford...

Child costs
Save £££s a month on childcare in a few minutes!
Whatever age your children are, we know there are lots of costs to think about each month.
The good news is there's plenty of support out there to help you, and you're not alone!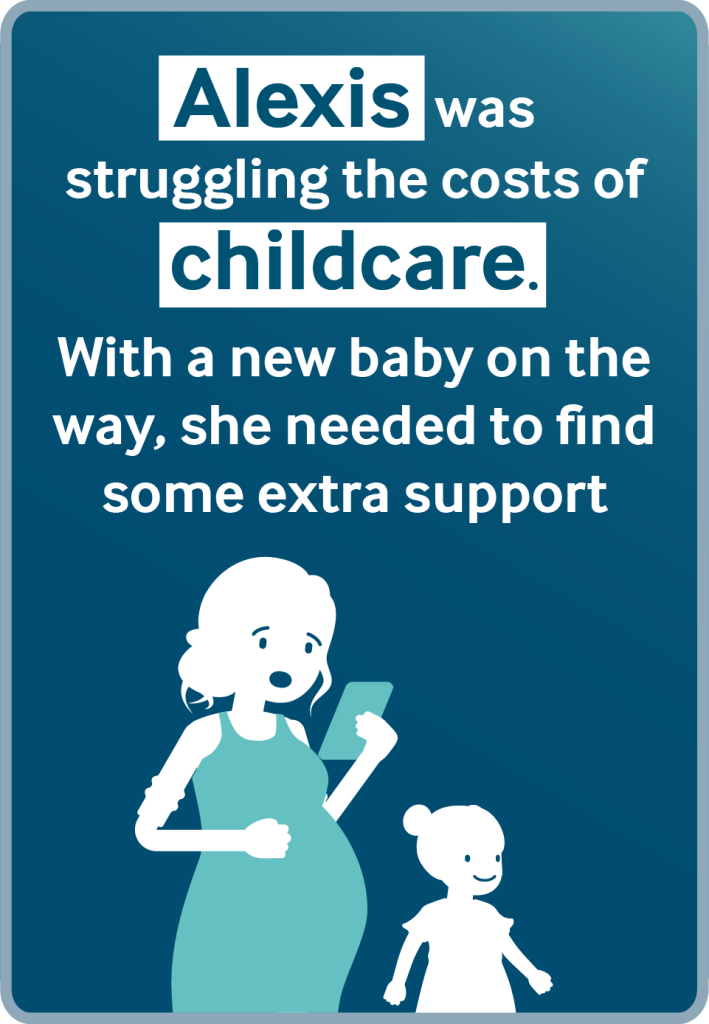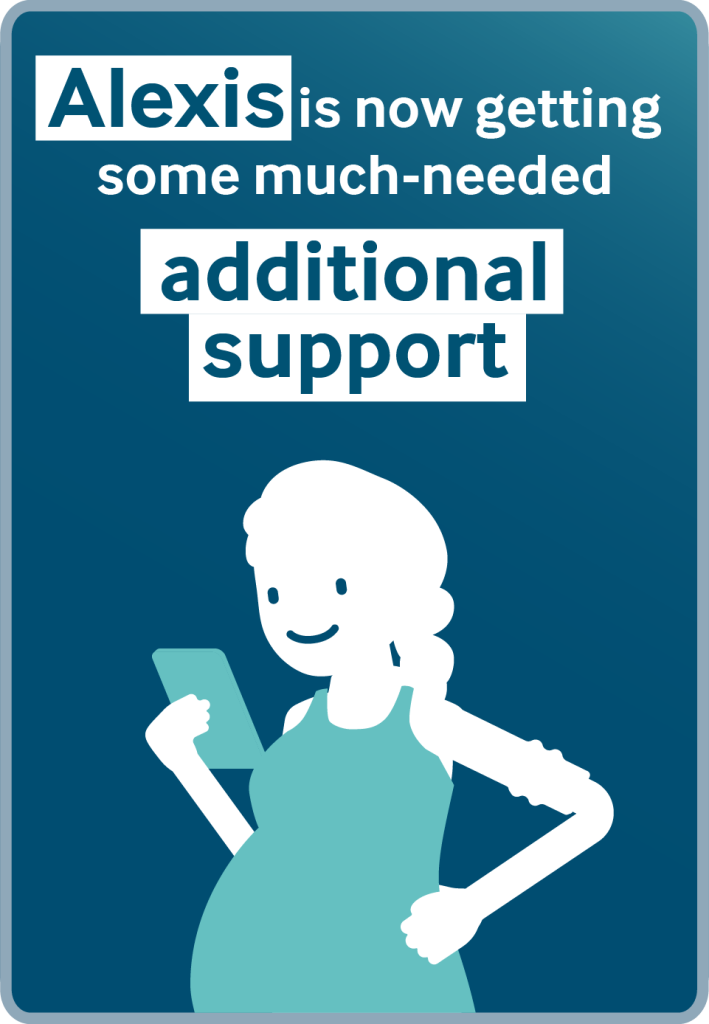 Alexis was struggling with paying for childcare, and with a baby on the way, needed to find some extra support. In just a few minutes, using the Childcare Cost Calculator through BudgetSmart, she realised she was entitled some extra monthly income.
Here are three easy ways to keep on top of your childcare costs
1 Check you're getting all the free childcare support that's out there:

2 Make sure you're receiving the correct benefits:

3 Speak to your child's school about extra support on offer:

You don't have to feel uncomfortable about asking for extra support, and your child's school is there to support you
Many schools have dedicated members of staff to help you with your requests – this can be over the telephone, email or in-person
You can also claim free school meals through the government website – this is something your child's school will also help you through if you need assistance
Help with paying for childcare
Juggling work, commitments and childcare can be a challenge – but by following these steps, you can make sure you're not missing out on anything - and you're receiving all the support you're entitled to. You can get up to £500 every 3 months (up to £2,000 a year) for each of your children to help with the cost of childcare. Find out more about this here.
Look into free childcare for various age ranges:
You may be able to claim back up to 85% of your childcare costs if you're eligible for Universal Credit, with up to £646 back each month for one child or £1,108 for two or more children. Find out more about claiming back childcare costs here.
If you're a parent carer of a disabled child
Disability Living Allowance (DLA) for children
If you're the parent carer of a disabled child, aged under 16 who has difficulties walking, or needs much more looking after than a child of the same age who doesn't have a disability, you could claim DLA. Find out more here.
Carer's assessment
You can request a carer's assessment for free, and anyone over 18 can ask for one. The assessment intends to see what help might make your life as a carer easier and it's separate from the needs assessment that the person you care for might have. To find your local social services team, click here.
If you're expecting a baby
If you're a grandparent caring for your grandchildren
Grandparents caring for their grandchildren (under 12) could qualify for National Insurance credits that can top up their income in retirement. Find out more here.
If you need help with school-related costs
Child Benefit
You can claim Child Benefit if you're responsible for bringing up a child who is under 16 or under 20 (if they say in approved education or training). Only one person can get Child Benefit for a child. It's paid every four weeks and there's no limit to how many children you can claim for. Find out more about claiming Child Benefit here.
National Breakfast Clubs 
All participating schools will receive a 75% government subsidy for breakfast club provision, with 25% from other funding streams. Find out more about the National School Breakfast Programme here. 
Holiday activities and food programme
You can get access to free activities and food for your children in the holidays if they receive free school meals. The programme usually runs through the Easter, Summer and Christmas school holidays. To find out more about support through the holidays, contact your local council. 
Vouchers
Get help-to-buy food and milk
If you're more than ten weeks pregnant or have a child aged under four, you may be entitled to get help to buy healthy food and milk. Find out more here.
Healthy Start vouchers
This is a voucher scheme for people with a parental responsibility for young children (under the age of four) or who are at least ten weeks pregnant and receiving benefits, to help them buy basic food like milk or fruit. Apply for the scheme here. If you're in Scotland, you can apply for Best Start Foods instead.
If you work in healthcare, the Armed Forces, or the emergency services
Blue Light Card
A Blue Light Card costs £4.99 for two years and you'll need your work ID or a recent payslip to prove you're eligible. It offers discounts at over 15,000 high street and online stores and covers lots of areas including insurance, phones, cars, and days out. Apply for your Blue Light Card here.
Defence Privilege Card
The Defence Discount Service provides discounts both online and on the high street for members of the Armed Forces, Veterans and Armed Forces Community. It's the home of the Defence Privilege Card, which is a vetted discount card that can be used in stores, restaurants, and venues to obtain discounts. Find out more about the Defence Discount Service and the Defence Privilege Card here.
Other costs
Six months free broadband
TalkTalk works with Jobcentre Plus and the Department for Work and Pensions (DWP) to offer six months of free broadband to jobseekers across the UK. Speak to your Jobcentre Plus work coach to find out more.
Vodafone Together scheme
The Trussell Trust, which is the UK's biggest foodbank network, has teamed up with Vodafone to provide phones and SIMs to people in need. You'll have to be referred to a Trussell Trust foodbank to benefit from the scheme.
Freecycle
This is a not-for-profit organisation which helps people in need of furniture reuse perfectly good items which might otherwise have ended up in landfill. You can sign up here.
Head to BudgetSmart for all the support you need to maximise your income in other areas of your budget:
Please note BudgetSmart has been created to provide you with information but it's important to always do your own research too. Whilst BudgetSmart contains links to third party websites we think you might find useful, PayPlan is not responsible for any external content or any actions you take when accessing these links/websites.