Save money on your car-related costs in just a few minutes!
By following some of these steps, you could find extra £££'s in your budget in as little as a few minutes.
We know how important it is to get from A to B – but make sure you're not paying too much!
Most people today run a car – whether that's through a leasing scheme, buying a car on finance, owning it outright or sharing one with family.
Life can be demanding, and we know it's important to be able to get to where you need to be – however, there are some steps you can follow to make sure you're not paying over the odds.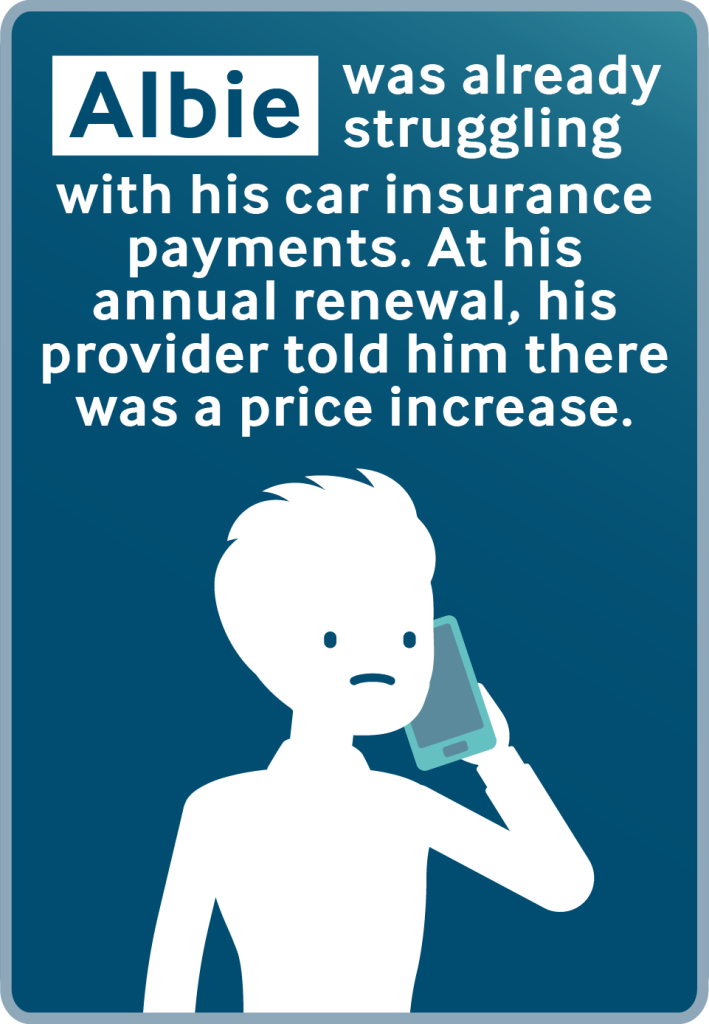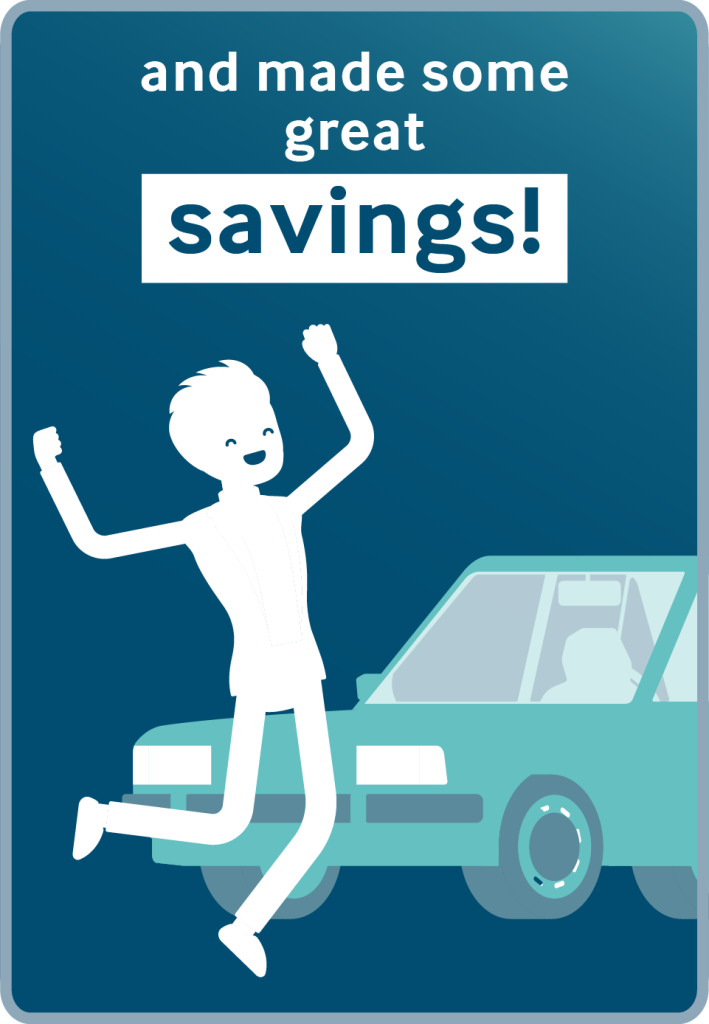 Albie was struggling to keep up with his monthly payments for his car insurance and, with his renewal date quickly approaching, matters were made worse when his provider said he would have to pay more per month for the next 12-month period. After reading through ways to save money on his car costs through BudgetSmart, Albie realised if he shopped around when renewing his insurance, he could make significant savings if he swapped providers.
Let's start with car insurance
Car insurance is one of the biggest costs involved with running a vehicle, so it's important to know some tips and tricks to help you save some money. As a starting point, make sure you've noted in your diary when your car insurance is up for renewal – never let your policy automatically renew.
At the same time, put a reminder in for a few weeks before to give yourself time to shop around for a better deal. Research from GoCompare shows it's better to buy early.

Some tips for reducing your car insurance costs
Look into black box insurance – this is where a device is fitted to your car which monitors the way you drive, your speed, your mileage and any other actions you take like braking and accelerating. On top of this, a black box will monitor all the detail around the journeys you make in your car. This helps the insurer to price your cover based on the way you drive – so, in short, if you're a careful and sensible driver, your insurance may be cheaper than more general cover, which will present you with a figure based on other drivers in your age group
Make sure you pick the right level of cover – consider carefully the different types of cover and decide which one is best for you, whether that's third party (the legal minimum for driving in the UK), third-party fire and theft or comprehensive cover
Think about adding an extra driver – if you're a first-time driver or a younger motorist, you can reduce your car insurance costs by being added as a named driver on a family member's policy instead. It's important to note that, if you're going to be the primary driver who uses the vehicle the most, you shouldn't ever name the more experienced driver as being so – this is known as 'fronting', is illegal and could invalidate your insurance
GoCompare has also put together a great checklist to help:
Be careful with your mileage – the less miles you do, the lower a risk you are for insurers
Paying for your insurance in a lump sum, if possible, is cheaper than paying monthly
Think about installing security devices but get quotes first to see if the extra cost of them is worth it when compared to the insurance savings
Build up your no-claims bonus discount
Only pay for what you need – don't choose a more expensive policy with unnecessary add-ons. If you do need add-ons – such as windscreen cover or personal accident cover - check to see if it's cheaper to buy these separately to your insurance
Park with care – if you have a garage/driveway, park your car there overnight to reduce the risk of damage to your car
Think about what vehicle is best for you – for example, cars with a small engine are more likely to be in a low insurance group – and road tax should also be cheaper
Avoid modifications – if you're looking to save money, it's likely you're not modifying your car but remember that if you do, this could mean a big hike in your insurance cost
Pay attention to administration charges – they're a great hidden expense!
Appealing against a parking ticket if someone else was driving
If someone borrowed your car

The person you lent your car to is responsible for the parking ticket if it's a Parking Charge Notice (from a landowner or parking company) or a Fixed Penalty Notice (from the Police or Transport NI)
They're responsible even if you regularly share your car with them

If a Parking Charge Notice is sent to you

Contact the company you've received this from and give them the full name and address of the person who was driving
Their contact details will be on the notice you receive
Write down the name of the person you speak to – as well as the date and time of the call, just in case you need to refer back to it later
If you send a written response to the company, if you can, use recorded delivery so that it needs to be signed for at the other end (proof of delivery)
The parking company must cancel the ticket in your name if you've sent them the full name and address of the person who was driving – they will then issue the notice to that person as part of a 'transfer of liability'
You don't have to give the driver's name to the parking company, and you can choose to pay the ticket yourself – however the person who was driving is responsible, and should pay the parking ticket

If a Fixed Penalty Notice is sent to you

This will be sent with a letter known as a 'Notice of Intended Prosecution'. If you ignore the ticket, you could be taken to court.
Get in touch with the authority that sent you the notice with the full name/address details of the person who was driving
They must then cancel the ticket and send one to the person responsible instead
Get in touch with your nearest Citizens Advice if you need further legal advice – or if the ticket isn't cancelled

If it's a Penalty or Excess Charge Notice

As the registered keeper of the vehicle, you're responsible for paying this type of notice – even though you weren't driving at the time
You can ask the person who was driving at the time to pay, but bear in mind they might refuse to
Establish whether they're willing to pay as quickly as possible because if they won't and you end up having to, you can often get a discount for paying early (usually 50% if you pay within 14 days)
If you don't pay, and ignore the fine, you could be taken to court – and have to pay court costs on top of the fine too

If your car was stolen or your licence plate was copied ('car cloning')

You should appeal this – as you're not responsible
Look for the contact details of the company the letter was sent from, and write to them explaining that your car was stolen/cloned when the offence took place
This may be the first time you find out your licence plate has been cloned – report this to the police and the DVLA straightaway
The police will give you a Crime Reference Number which you can include in your appeal
Once it's proven you weren't driving, the notice against you must be cancelled.

If you've recently purchased (or sold) your car

If you've just got a new car, it might be that the previous owner was parked incorrectly – but as a result, as the new registered keeper, you've received a parking ticket in the post
Look for the contact details of the company issuing the ticket on the letter you receive and write to them to explain the situation including details such as the date you bought the car, the full name/address of the previous owner/company that sold you the car, a copy of the DVLA Registration Certification (V5C) and a copy of the receipt/invoice from when you bought the car (if you have it)
Once you've provided this, the fine will be issued to the person driving at the time through a 'transfer of liability'
This also works in the instance that you recently sold your car – follow the same process as outlined above explaining the situation and providing necessary information
Working out insurance costs in your budget
Annual running cost = Annual insurance bill
Cost per mile (in pence) = Insurance bill / Annual car mileage x 100
Understanding your voluntary excess
When looking for a car insurance quote, it's worth looking at how changing the voluntary excess affects your price. While it may seem logical for you to put your voluntary excess at a price which returns the cheapest car insurance, it's important to remember that if you make a claim, you might have to pay both the voluntary and compulsory excess.
Be realistic with your finances and find a price that's right for you so that, should you need to make a claim, you'll be able to realistically afford the amount your insurance is based on.
Understanding your compulsory excess
Your compulsory excess is set by your insurance company - this is set in stone and there's no opportunity to change it. As a new, young or higher-risk category driver, you may face an increased price. You may also see an increase in your compulsory excess if your car has been modified.
Breakdown cover
It's not essential to have this – but it can bring enormous peace of mind – especially if your car breaks down.
You can research the best breakdown cover deals here.
Vehicle tax exemptions and reductions
You can apply for a vehicle tax exemption if you receive one of the following:
Higher rate mobility component of Disability Living Allowance (DLA)
Enhanced rate mobility component of Personal Independence Payment (PIP)
Enhanced rate mobility component of Adult Disability Payment (ADP)
Higher rate mobility component of Child Disability Payment
War Pensioners' Mobility Supplement
Armed Forces Independence Payment
Find out more about vehicle tax exemptions here. Remember you must tax your vehicle even if you don't have to pay.
You can get a 50% reduction in vehicle tax if you get the PIP standard rate mobility component or the ADP standard rate mobility component. Find out more here.
Working out tax costs in your budget
Annual running cost = Annual car tax bill
Cost per mile (in pence) = Tax bill / Annual car mileage x 100

Tax for electric cars
Electric vehicles will no longer be exempt from Vehicle Excise Duty from April 2025.
If you can't afford car finance payments – a step-by-step guide
Firstly, check what type of car finance you have. If you have your paperwork to hand, it will list the finance agreement type on there. Alternatively, give your lender a call and they'll be able to let you know.
We've broken down the most common types of agreements here:
PCP (otherwise known as Personal Contract Purchase)

The most common form of car finance
You don't own the car outright but put down a non-refundable deposit towards the cost of the car, and then you borrow the rest
If you decide to buy your car at the end of the agreement, your deposit will go towards the cost of this
Monthly payments are then made to cover interest and depreciation over the term of the contract
When the contract ends, you usually have three options

Buy the car outright – paying the outstanding lump sum left owing plus any additional fees
Trade the car in for a replacement on a new PCP contract
Return the car – providing there's no damage to the car and you've kept to the terms, there won't be anything more to pay

Leasing

You don't ever own the car – you just make regular payments to lease it
Your payments will depend on the value of the car, an agreed mileage allowance and how long you'll use it for

HP (otherwise known as Hire Purchase)

You put down a deposit at the start of the agreement
You then make monthly payments until the final payment has been made
You will own the car once you've settled all payments, including an extra 'option to purchase' fee
So, now you know what type of agreement you have, what should you do next?
Your car finance provider may get in touch with you first, but if not, be pro-active and contact them as soon as possible if you've fallen behind
See if they will work with you to work something out – this might be a payment holiday, a reduced payment or a new repayment schedule which is more affordable

Remember the car belongs to the finance company until you've made all the agreed payments
If you've missed a payment or two, the finance company will probably get in touch to discuss ways you can catch up on these payments and pay off any arrears. If you continue to fall behind though, they might decide to issue a Default Notice and take further action

If after this you still feel you're going to struggle in the long-term, there are a few options to consider:

Voluntary termination

If you simply can't afford your car finance anymore, speak to your provider about ending your agreement
You'll only be able to do this if you've paid more than half of the total amount of your agreement
If you haven't yet repaid more than half, see if you can make a one-off payment to get to this amount
Double-check what this 'half' amount is because it does vary depending on your agreement and shouldn't necessarily be thought of as halfway through your contract term

Part-exchange your car

Speak to your car finance provider about whether you could switch to a different, cheaper car with smaller monthly payments, by part-exchanging your existing car

Refinance

This might be an option available to you if you have a good credit score
You might be able to refinance your existing car finance, extending the term to reduce your monthly payments – but bear in mind this will mean paying more interest

The finance company may also be able to repossess the car if you've fallen behind on payments. Have a look at your agreement and find the section outlining your rights. It'll tell you how much you need to have paid to stop the lender taking the goods back without a court order – and without your consent – this should be one third of the total amount payable under your agreement.
Should you have issues with your finance company, there are ways to take action. Companies that carry out consumer credit activities must have permission or authorisation from the Financial Conduct Authority (FCA).
They must have a formal complaints procedure. If they don't, or if they don't follow the procedure properly, their authorisation may be affected. 
Discounted travel costs
Running a car can be expensive so it's worth considering whether you'd benefit from using public transport instead.
If you're unemployed and claiming Jobseeker's Allowance or Universal Credit for 3-9 months (18–24 year olds) or 3-12 months (over 25s), you can apply for a Jobcentre Plus Travel Discount Card which provides a 50% discount on selected rail tickets. Find out more here.
Think about going electric
Charging an electric car at home is the cheapest option and allows you to make use of any off-peak electricity tariffs.
Make sure you're getting the most out of your fuel
While it may be unrealistic to change your car or go electric, making smaller changes such as keeping your tyres pumped up to the recommended pressure and removing unnecessary weight from your car will help you to make the most of your fuel.
There are four factors that affect your fuel cost per mile:
Fuel price
Fuel type
The car's efficiency (fuel consumption)
The way you drive
Diesel's more expensive than petrol, but you do get more miles per gallon. Remember, though, the bigger the price gap, the longer it'll take you to recover the extra cost of buying a diesel vehicle in the first place. You'll need to be a high mileage driver to make diesel a more economical choice than petrol.
Pump prices vary quite a lot around the country and between brands. Get to know the cheapest in your area and shop around when you're away from home.
How to calculate fuel cost per mile
Cost per mile (pence) = Litres × Fuel price ÷ Number of miles
Annual running cost (converts to £) = Cost per mile × Average mileage ÷ 100
Tyre replacement costs
In a four-year period, a car could go through a complete set of new tyres. When calculating the cost of replacing tyres, include the valve, balance and the disposal charge for the old tyre. Shopping around for tyres can help to keep costs down too, as main dealers will be pricier.
You should also factor in other replacement items like windscreen wiper blades.
Here's how to estimate the running cost of replacement parts:
Annual running cost = Total of all items bought for car
Cost per mile (pence) = Total cost ÷ Annual car mileage × 100
Service and MOT costs
If your car is over three years old, it'll require a yearly MOT. This is a legal requirement and ensures that your car remains roadworthy.
It's not legally required to get your car serviced but it's highly recommended. Although it costs money, a service can make your car more efficient and also helps to flag and fix niggles before they turn into a bigger - and costlier - problem.
Here's how to calculate wear and tear running costs:
Annual running cost = Your annual service bill
Cost per mile (pence) = Service bill ÷ Annual car mileage × 100
Parking and toll costs
This all depends on where you live – and will vary across the UK. If you have to park regularly as part of your commute to work, make sure you're including these as regular costs in your budget.
Other costs – for example, if you live in London, the Dart Charge and costs for Low Emission Zones – also need to be considered.
Consider a "car subscription"
Yes, there seems to be a subscription for everything nowadays. A car subscription is like leasing a car, where you pay a fixed amount each month. But with a subscription, the major ownership costs are covered too, including road tax, insurance, servicing and breakdown costs.
Can you claim your miles back from your employer?
Approved mileage rates are set by HMRC and reviewed from time-to-time. If you're looking for mileage costs or mileage rates, click here.
How much your employer will give you for using your own car for company business depends on the employer and is a matter for negotiation as circumstances vary.
If your employer does offer to cover the costs of your mileage, it's important to ensure you take advantage of that option.
If you work in healthcare, the Armed Forces, or the emergency services
Blue Light Card
A Blue Light Card costs £4.99 for two years and you'll need your work ID or a recent payslip to prove you're eligible. It offers discounts at over 15,000 high street and online stores and covers lots of areas including insurance, phones, cars, and days out. Apply for your Blue Light Card here.
Defence Privilege Card
The Defence Discount Service provides discounts both online and on the high street for members of the Armed Forces, Veterans and Armed Forces Community. It's the home of the Defence Privilege Card, which is a vetted discount card that can be used in stores, restaurants, and venues to obtain discounts. Find out more about the Defence Discount Service and the Defence Privilege Card here.
Benefits calculator
Check your benefits entitlement using our calculator here.
The Motability Scheme
The Motability Scheme is designed to help disabled people lease a car, a powered wheelchair or a scooter. You'll need to be in receipt of one of the following to access this scheme: the higher rate of the mobility component of DLA, the higher rate of the mobility component of Child Disability Payment, War Pensioners' Mobility Supplement, Armed Forces Independence Payment or the enhanced rate of the mobility component of PIP.
Blue Badges
Blue Badges help people with disabilities or health conditions park closer to their destination. You can apply for a badge on behalf of somebody else. You'll automatically qualify for a Blue Badge if at least one of these points applies to you.
Support from your local council
It's worth looking into whether your local council operates a dial-a-ride or taxi scheme and finding out if you're eligible for a bus pass and/or a railcard.
Speak to PayPlan and get free debt advice
Remember, if you're struggling with debt, PayPlan's here to help you get on top of your finances. Speak to PayPlan today to get started.
Head to BudgetSmart for all the support you need to maximise your income in other areas of your budget:
Please note BudgetSmart has been created to provide you with information but it's important to always do your own research too. Whilst BudgetSmart contains links to third party websites we think you might find useful, PayPlan is not responsible for any external content or any actions you take when accessing these links/websites.