Living in one of the poorest areas of Cambodia taught me…
Written by Anthony Hill on 27 October 2014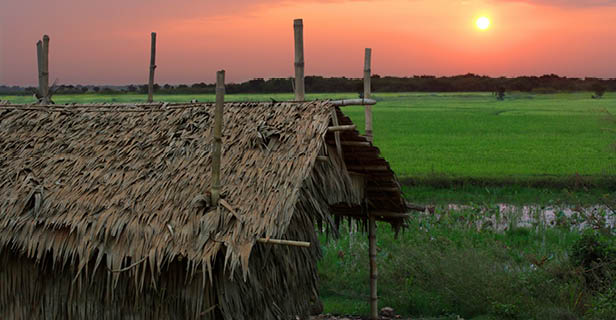 I have just arrived back to work having spent 3 months in Cambodia working and living in one of the poorest communities in the country. While out there I predominantly worked on projects promoting the importance of sending girls to school, through workshops and awareness raising events in target villages. Cambodia is still very much a developing country. Despite progress, the people still face many hardships as the country works to rebuild itself after years of civil war and one of the worst genocides the world has ever seen (one third of the population was killed within the space of three years under the Khmer Rouge regime in the 1970's.)
However despite these hardships, it was hard not to admire how effective the Cambodian people are at making their money stretch, and using every resource available to them. Many a night I would get to enjoy candlelit dinners eating some of the freshest organic vegetables I have ever had. Back home I associated candlelit dinners with special occasions – in Cambodia, it meant the electricity had gone out again for the third time that week. There was something great though about sitting around the dinner table surrounded by candles and just spending time together.
Every dinner I had in Cambodia in the host home I was staying in was from one large shared dish. This was great as it meant they could cook in bulk at a lower cost and it was a great way to socialise around the dinner table. Nearly all of the vegetables we ate were grown in their garden, or bought from someone else in the village that had grown them. Though meat was in short supply due to the cost, at the market no piece of meat goes unused, be it from a pig or chicken. So people get creative with the cheaper cuts of meat we would usually throw away here, but they still taste great. There was also no shortage of rice out there and it provides a cheap and filling staple food.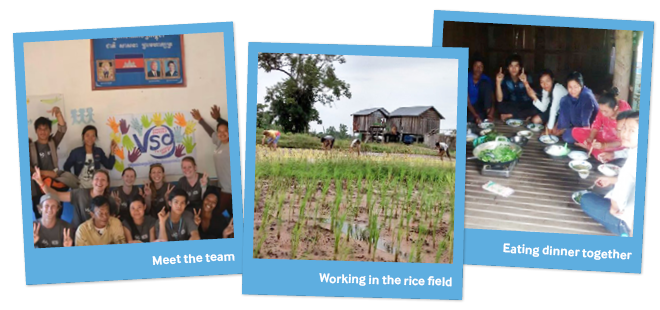 While I was in Cambodia it was monsoon season… this meant colossal amounts of rain. Whereas we may occasionally moan about the rain in this country, in Cambodia it means you have water for showers, water for washing your clothes and water for cooking. As much as the thought of cold showers may not seem appealing, in the heat out there they are incredibly refreshing – though some days I definitely craved hot showers! Also hand washing your clothes provided a great opportunity to improve your arm muscles!
The main thing I took away from the experience was the sense of community out there. Sometimes in the UK people may not even know who their neighbours are, but in the Villages everyone looks out for each other and supports each other. We are very lucky in many ways, but there's always room to continually remind yourself about the simple pleasures in life. So if you get the chance, turn off the lights one evening, get some candles out and sit down with the ones you love and enjoy each other's company. Because more than any belongings we have, its each other's company that is the most valuable thing we have in our lives.
---
Filed under Money Saving Ideas
This article was checked and deemed to be correct as at the above publication date, but please be aware that some things may have changed between then and now. So please don't rely on any of this information as a statement of fact, especially if the article was published some time ago.