Budget your way through the month using the envelope system
Written by Anthony Hill on 11 July 2014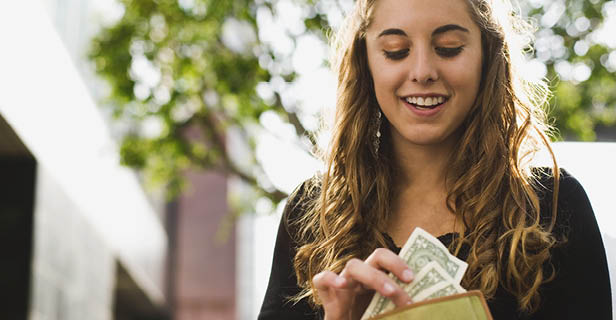 Using actual paper envelopes sounds like something your granny would do? Probably because it is! In this age of digital technology it might sound a bit archaic but if it works, it's worth a try.
When you're making payments on a credit or debit card, it's really easy to lose track of your spending because you're not handling actual cash. For some reason, it's harder to spend money when you see the bank notes and coins leaving your wallet, so the envelope system utilises that feelingto help you keep a tighter grip on your spending habits.
What is it, then?
The idea is to have separate envelopes for different types of bills/expenses, so you can easily set a budget for each of them. The money you put in each envelope will be all you're allowed to spend on that particular thing in a given month. For example, if you set £10 per week aside for socialising, that's £40 for the whole month and you'll know that's all you are allowed to spend. If you run out of money too early in the month then you'll have to assess if you under budgeted or if you're spending more than you should.
How does it work?
You'll have to assess all your expenses and divide them into two categories: fixed expenses and variable expenses.
In fixed expenses you should include any recurrent bills – mortgage, car payments, insurances, etc. Variable expenses should then include everything else – food shopping, socialising, hobbies, etc.
Stuff that envelope
The fixed expenses should be on Direct Debit, so you don't have to worry about those payments. Work out how much should be left after you've paid your fixed expenses, then take that amount out of the bank and bring it home with you. This is when you'll start filling your envelopes, according to the expenses you may have. Make sure you have an extra envelope, for emergencies. 
Then you can start spending, taking funds for your different expenses from their corresponding envelope.
The crucial part of this system is that you shouldn't be taking money out of other envelopes if you find yourself short in one area. Instead, consider making some adjustments. If necessary, get that emergency expenses envelope out if you really need it. After a few months you should be able to adjust all the amounts to the perfect balance and be able to have enough money for all you need and want.
If you have some money left at the end of the month, why not save it for a special treat or a holiday?
Remember – if you're keeping money in the house, take care to keep it in a safe and secure place, well out of sight.
---
Filed under Money Saving Ideas
This article was checked and deemed to be correct as at the above publication date, but please be aware that some things may have changed between then and now. So please don't rely on any of this information as a statement of fact, especially if the article was published some time ago.